Contact LEAGUE at AT&T San Francisco Chapter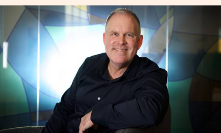 Robert Goodman
San Francisco Chapter
Hi, this is Robert Goodman. I've been with AT&T since 2011 and am based in San Francisco, CA where I'm currently CRAN Sr. Technical Project Manager, AT&T Mobility. I joined LEAGUE in 2011 and now hold the position of Treasurer to the San Francisco Bay Area Chapter where we are focused on addressing LGBT+ youth homelessness.

My passion as a LEAGUE member is Project Open Hand, providing meals to people with debilitating diseases like AIDS or breast cancer.
I have over 15 years' experience in the Financial Industry (Wall Street) and now over 20 years' experience in the Telecommunications industry in various operational roles. I started my Telecommunications career at Pacific Bell telephone managing technicians who provisioned Frame Relay, ATM and DSL. I have since worked in smaller startup companies that broke ground on new technologies, Yipes – The first Ethernet over fiber provider in the U.S. and Clearwire – The first 4G provider in the U.S.

I currently manage end to end 5G small cell deployment in San Francisco. We are deploying small cells on top of city street light poles and utility poles to provide more network capacity including 5G starting in 2019. This entails managing the projects through RF design, pole selection, city zoning and permitting, construction, integration, optimization and finally On Air.

I have participated in the LEAGUE AT AT&T San Francisco Chapter for over 9 years. I first joined the board to learn more about what AT&T was doing to support LGBT employees and customers. In 2016 I was selected as President and have held that role for 3 years, handing over the role to Mark Sander last year. We have successfully engaged more employees in LEAGUE through Mentoring programs, community volunteer/fundraising opportunities, self-improvement lectures, company sponsored LGBT events and our chapter sponsored events.

Mark Sandner, Vice President
San Francisco Chapter
Hi this is Mark Sandner. I've been with AT&T since 200, I'm based in San Francisco where I hold the position of Office Manager.  I've been with LEAGUE since 2016 and am currently Vice President of the Chapter. 
My passion as a LEAGUE member is supporting the LGBTQ community, especially programs that help displaced Teens like the Larkin Street Youth Services organization.

Emily Rivera, Membership Coordinator
SF Bay Area Chapter
Hi this is Emily Rivera. I joined the company in May 2018 and I'm currently Client Solutions Executive, based in San Francisco, CA.
I've been with LEAGUE since 2012 and am currently Chapter Secretary, we are focused on supporting Northern California non-profit organizations that lack resources related to education, nutrition, medicine, etc. We also want to continue to educate and celebrate our LGBTQ+ heroes with our colleagues and communities.
As a LEAGUE member of the SF Bay Area, I feel passionate about serving our LGBTQ+ community in any way possible. We have several amazing non-profit organizations in Northern California that need our support in raising awareness on issues related to poverty, homelessness, social injustice, etc. My goal is to work diligently with our board and members to get involved in fundraising and volunteering to strengthen our LGBTQ+ community.

Contact the chapter for more local information.