By William
Pride Month is a time when everything is rainbows and glitter and we are we are reminded that we are seen and accepted.  It's important to remember not everything is rainbows and glitter for those who aren't out yet. I recently saw a wonderful image of a rainbow-colored turtle tucked into its shell with the words "It's ok if you aren't out yet" and it reminded me of my first Pride event.
In 1995 I was a 16-year-old high school sophomore and working my first job at a local fast food place. I was certain that I was different from my friends, and still wrestling with labels and language that accurately matched how I was feeling. When I heard there was going to be a Pride parade in my town, I felt a need to be part of it.
When I arrived that Saturday, I found a spot near the library at the beginning of the parade route. Unlike most parades in town, this one would wind from the library to the capital, where speakers were lined up for a rally. I originally intended to just watch the parade, but a few adults I knew were marching with PFLAG and encouraged me to join them. There is something empowering about standing next to people acting as buffers to the slurs and hate we encountered along the way. It was incredible to see so many people from all around the state participating in the parade; there were far more of us than there were protestors.
I remember sitting on the lawn of the capitol at the rally listening to people talk about the importance of LGBT visibility and acceptance. The various speeches have since drifted away from my memory, but I vividly remember going back to work the next day still riding high on the positive energy. All of that came crashing quickly down as the closing manager expressed his homophobic thoughts about the Pride parade. Although I was not out and his comments were not aimed directly at me, I suddenly became fearful for my own safety. I left that job shortly after, but I will never forget how I felt during that shift.
By my junior year, I began my process of coming out to friends and eventually to my family. I thankfully didn't experience any hardships related to coming out, but I know many people unfortunately do. I wish we lived in a world where we could all be loved and accepted for who we are and who we love. But until we do, I recognize that many people live a life where they can't be out. For this reason, we should take a moment to remember that at Pride events you never know how many colorful turtles there might be. They are looking to us to show them there is a supportive community ready to welcome and protect them when they are ready.
Happy Pride Month! Whether you are an ally, out, or a colorful turtle, you are welcome and accepted.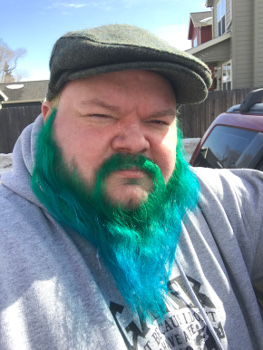 William is the Chapter President for LEAGUE at AT&T – Montana. He is a Legacy DIRECTV Employee in Missoula, where he's worked for the last 13 years in a variety of capacity, but currently works in the Advanced Resolutions Team as part of the Last Chance Repair team, where he works to reduce churn among newly acquired customers who have technical issues within the first 90 days of service. He is also an Assistant Chief Steward for IBEW Local 768. William received holds two B.A.s in English, with an emphasis in Queer Theory, and Cultural Anthropology, with an emphasis in Gender and Identity, from the University of Montana. He lives in Missoula with his husband of 15 years.